WELCOME TO HOLLIMAN AND ASSOCIATED FAMILIES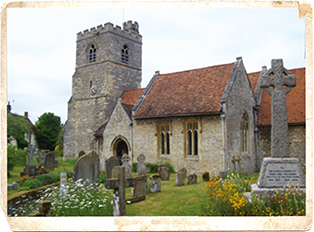 St. Nicholas Parish in Cuddington, Buckinghamshire, England, where generations of Hollymans have been laid to rest since the 1400s, and who are the direct ancestors of most American Hollimans today.
This is a place where one can find and share family history information pertaining to mainly English and American Holliman families (various spellings) and dozens of allied families such as Walker, Osborne, Wilson, Stansbery, Greer and many more. In generations past, memorabilia and research might have gone to the attic or the dust bin. In the 21st century, why not create a virtual archive, scan thousands of pages and via the Internet, invite genealogists now and in the future, to visit the growing database? Select items of interest, a bit like a lending library, only one gets to keep a copy of the manuscript or photo album of ancestors!
SURNAMES ON OUR SITE
Below are the surnames of those whom this site has manuscripts, materials, knowledge and/or photographs. If you find a manuscript that might be helpful to your research, contact us, and as 'lending archivist,' it will be sent to you.
Adema
Alexander
Edwards
Kaiser
Petite
Baldwin
Edgerton
Klein
Rettig
Barham
Egginweiler
Lees
Ridgely
Bass
Emerson
Long
Riggan
Beall
Evans
Love
Roberts
Beiter
Fitzhugh
Lucas
Shank
Blakeney
Fowlehurst
Maget
Smith
Baker
Gains
Manwaring
Spencer
Bond
Galvin
McBee
Sprigg
Bostick
Garrison
McComas
Standley
Brewer
Gonson
McCray
Stansberry
Bryan
Graves
McCurdy
Stanyard
Bryant
Gray
McGough
Steinhagen
Bullock
Greer
McKnight
Swan
Burns
Guyton
McNewsome
Switzer
Calvert
Guins
Mohler
Strother
Carter
Hall
Moore
Thompson
Champion
Hamby
Munzert
Thornton
Chew
Hawkins
Murphy
Thrope
Clemmons
Helling
Nicholson
Trelawney
Cofer
Hendrix
Norsworthy
Turpin
Cole
Hill
Noyall
Underhill
Crafford
Hogg
O'Dell
Underwood
Crockett
Holiman
Oliver
Wachsmuth
Curtis
Holleman
Osborne
Walker
Dale
Holliman
Payne
Wallace
Daniel
Holloman
Pearce
Walters
Davidson
Hollyman
Peerce
Weedon
Davies
Holt
Pettigrew
Whitherspoon
Davis
Howard
Petway
Whitten
De Mallpas
Jackson
Pitman
Williams
Douglas
Jones
Plow
Wilmot
Dover
Judkins
Plyler
Wilson
Duckett
Juston
Porten
Whitaker
Edwards
Kaiser
Prather
Yerby
Boone
Donnelly
Stansbery
Herrin
Wilcoxson
Announcements
Check here for updates on
events and site changes.
Welcome to the Holliman and many associated families 'virtual archive'! Founded February 2016, this site grows as we continue to upload manuscripts. Most files to this point are related genearlly but always to names such as Holyman, Holliman, Blakeney, Baker and other families who lived in West Alabama, arriving in the 1830s, but am adding also my maternal side of the family - Stansberys, Greers, Wilsons, Ademas, Boone, Wilcoxson and Osbornes, mainly from upper East Tennessee and Western North Carolina.
Bookmark this site, and from time to time check back as we scan more documents and make them available to our famlies. As of February 2018, 2,750 documents are up, and we try to add more weekly.
On the Records page use our search buttons, and just download the manuscript you might wish to obtain. Once you ask for a document, you will go to a 'card catalogue' where we have often included a description of each manuscript to insure that you are downloading what you desire. Do allow time for downloading. Large manuscripts require several minutes so be patient.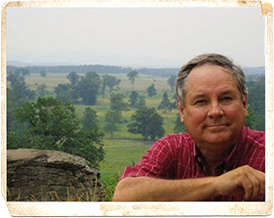 Glenn N. Holliman, creator and chief administrator of the Holliman and Associated Families web site, is pictured at the Gettysburg National Battlefield where ancestors from both his paternal and maternal sides fought.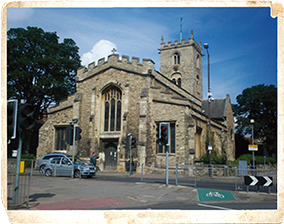 The former St. Mary's Parish in Bedford, Bedfordshire, England where Christopher Hollyman (1618-1691) was baptized. He is the ancestor who in 1650 migrated to Virginia, and from whom most Hollimans (various spellings) living in the USA are descended.