Resources
Stewards of Our Various Families' Past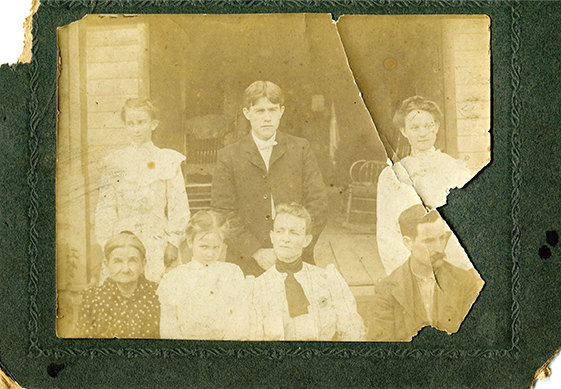 1904 ca the William Lee Caine family of Fayette County, Alabama; back row, rt. Pearl, Floyd middle, and Maude on left. Front row - Lula and William Caine middle and rt., Vista left next to her grandmother Melissa Anthony Caine (1823-1913). Pearl is the grandmother of Glenn N. Holliman.
Below are some links to other resources related to the Holliman and Associated families that may be helpful in your personal research and genealogy.
ANCESTRY.COM
If you are not sure of your ancestor's identity, check to see if your family surname or ancestor is listed at one of our Ancestry.com sites. What you learn at Ancestry (or don't learn) can help you find the appropriate manuscripts. The following Trees may help you. We will post more as we receive them from associate families.
The Holliman-Long Ancestry.com Tree - This tree contains both Holliman and Long ancestors and many associated family names.
The Hollyman Ancestry.com Tree - In conjunction with early discussion on saving family items, Glenn's cousin Jeanette Holiman Stewart, has undertaken at Ancestry.com to create a massive Hollyman based family tree. At this writing she is nearing 40,000 names with thousands of photographs and items on the profile pages. This site was founded in July 2012 by family historians Tina Peddie, Joseph Parker, Glenda Norris, Lynn Holliman, Jeanette Holiman Stewart and Glenn N. Holliman, all descendants of Christopher Hollyman, Sr. (1618-1691).
This Christopher Hollyman, Sr. came from England to Jamestown, Virginia in 1650, married twice, had six children and prospered, leaving a plantation of 1,020 acres at his death in Isle of Wight County, Virginia. While other persons with the name of Holyman (or a derivative) evidently migrated to the New World, our evidence to date traces almost all Hollymans (and various spellings) in the United States back to the four sons of Christopher, Sr. Their names are Thomas, Christopher, Sr., William and Richard. There were two daughters – Ann and Mary who married two brothers from a neighboring plantation – John and James Atkinson.
The Wilson/Greer/Osborne/etc. Ancestry.com Tree - This is one of several sites maintained by cousins on Glenn's maternal side. Persons are welcome to visit this site, look for names, apply for membership and join a number of us enlarging this Tree. Cousin Jeanie Bond, on the American West Coast, has another large Tree with several additional branches. We are happy to put you in touch with this dedicated genealogist.
The Murphy Family Ancestry.com Tree, created by Glenn's sister, Alice Holliman Murphy, and the Payne Family Ancestry.com Tree established by his nephew, Bryan Parker Payne, are resources for these branches.
FACEBOOK
Hollyman Facebook page maintained by Tina Peddie. This is a private group so ask to become a member.
Unknown Photos of Grayson, Carroll, Ashe, Watauga, and Johnson Counties created by Clington Getzinger. These Virginia, North Carolina and Tennessee counties were and are the homes of Greers, Wilsons, Forresters, Osbornes and many more associated families.
BLOGS
http://hollimanfamilyhistory.blogspot.com contains information on early Hollyman history in both England and Virginia.
http://ulyssholliman.blogspot.com focuses on the Ulyss S. and Pearl Caine Holliman family and descendants from early 20th Century Irondale, Alabama.
http://fwosborne.blogspot.com carries stories and photographs of the Osborne, Stansbery, Wilson, Greer, Boone, McCray and other families who settled in upper East Tennessee, western North Carolina and Grayson County, Virginia in the late 1700s, ancestors of Glenn N. Holliman's maternal line.
If you have a family tree site or related Facebook page or Blog, let us know about it and with your permission, we can promote it as a resource here as well.
Announcements
Check here for updates on
events and site changes.
This is a place where one can find and share family history information pertaining to mainly the English and American Holliman families (various spellings) and dozens of allied families. In generations past, memorabilia and research might have gone to the attic or the dust bin. In the 21st Century why not create a virtual archive, scan thousands of pages and via the Internet invite genealogists, now and in the future, to visit the growing database? Select items of interest, a bit like a lending library, only one gets to keep a copy of the manuscript or photo album of ancestors!
Our uploads are often of documents researched and many written by earlier generations. In numerous cases, new information has altered lineages so be careful with conclusions from the past But what a debt we owe to earlier generations for acquiring and saving raw data, memories and our past. We hope this site will be a resource for decades to come. - GNH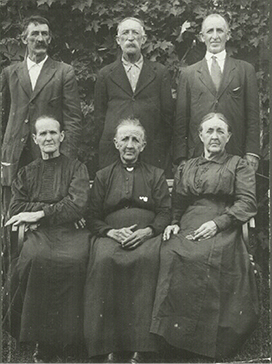 1919 Sutherland, North Carolina, six surviving children of Isaac (1822-1864) and Caroline Greer Wilson (1828-1911) - back row, l to r, Robert Wilson, John W. Wilson and The Rev. William A. Wilson. Front row, l to r, Jane Wilson Proffit, Nancy Emaline Wilson Osborne and Frances Wilson Osborne, Glenn N. Holliman's great grandmother.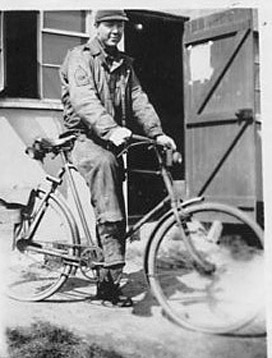 1945 Charles Stansbery (1918-2006) outside his barracks in Suffolk, England. He enlisted in the Army Air Corp in the late 1930s, a mechanic for the Keystone Bi-plane Bomber, worked on B-10s, B-24s, B-36s, B-52s and finished his career preparing Minute Men missile silos! He is Glenn N. Holliman's uncle.